Hello guys, I'm quite new to the forum but there is a start for everything, I've been playing this game for maybe a year and i'm building mostly helicopters and recently I started using mods because precision placement & scaling make crazy things possible!
Here is my last baby
(you can click on it for workshop link) hope you'll like it, otherwise eh, nothing is perfect!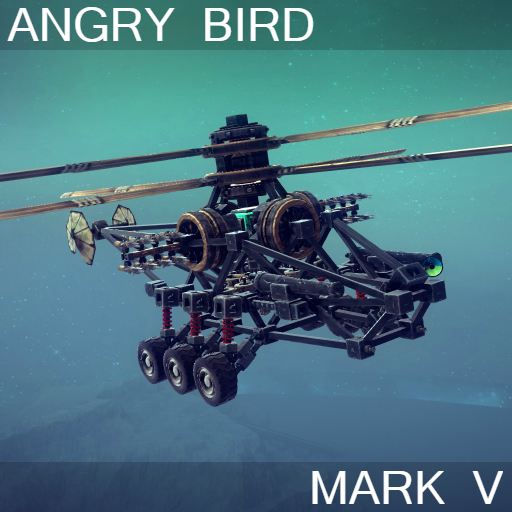 Stable hoovering mode
Power controls : boost / loss
Direction controls : pitch / roll / yaw
Weaponized : dual cannons / 16 rockets / flamethrower / bomb drop
Built-in crane system with free fall functionality for precision catching
Robust & suspended landing gears : easy landing everywhere even while moving
Can driven by wheels & yaw when the rotor engine is turned off
Nice cockpit instuments & first person view
The issue I'm having with is I don't know how to put plates on it so it can look real, right now it's made of bars. I tried resized hinges / blades but triangles looks impossible to cover nicely... if somebody has ideas I'd love to know about it!
And now let's talk about realistic stuff!
Cyclic control (pitch / roll)
Collective control (up / down)
Yaw is on the bottom inertial wheel, I plan to replace it by tail rotor
Power comes from the top inertial wheel, I have no idea how I can change that atm
No hidden flying block nor baloon, everything's real!
I'm kind of proud that it's working not that far from real helicopters (well I couldn't since I haven't fly any but.. you know what I mean!) and it's quite stable, everybody could twirl that pile of junk without having to crash actually.
The camera is at a 90° advance angle so the controls are intuitive (gyroscopic precession is doing it's bizarre magic!). You will also feel things weird when you'll get horizontal speed : it's the naughty transverse flow effect. I didn't built any helicopter hull around it cause I'm just trying to improve the thing and get an efficient realistic rotor, and also because my laptop don't like demanding physics + lots of blocks. Let me now if you build one with it, I would love to see that!
I'm reading some scientific literature (Young / Bell / Hiller / Sikorsky) to figure out how I can design a stabilizer for more than 2 bladed rotors (simple flybar is not compatible) but it's tough, any help is appreciated!!
Do not hesitate to flash your own rotor systems, could be cool to have a collaborative thread so we can build better helicopters! I've already seen few in the workshop and some are amazing
Last edited: